Meet innovation produced by Honda.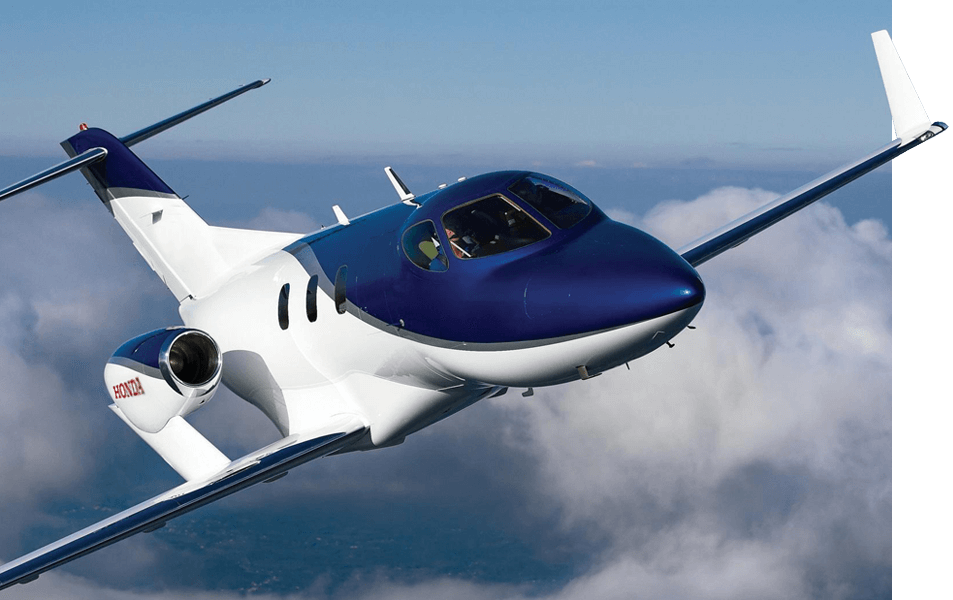 Description
Created from the ground up, the Honda Hondajet was made to be bespoke. Designed to be the most advanced business jet, the Hondajet provides a much more modern experience when it comes to air chartered flight.
It's beyond easy to get antiquated with the Hondajet as it puts you at ease the moment you enter. The executive adjustable seats, private lavatory and a whole host of modern amenities create the perfect place to work, relax and think.
Externally, the Hondajets engines were designed to be mounted over the wings. This breakthrough in aeronautics has drastically improved several of this jets features such as cabin space, noise reduction and an increase of fuel efficiency.

Aviation Improvements
With Honda's relentless attention to detail, they redesigned the aircraft by mounting engines over the wing along with other innovations to improve performance, cabin space and noise reduction.

Comfort
Become seduced by the Hondajet as you get to know the luxurious cabin with its extra comfortable seats, silent cabin and ample amount of leg room.
Connected
All of our jet aircraft are connected. You can work, play and enjoy while being in the jet.
Safety First
Nothing is more important than feeling safe. This is why all our aircraft meet stringent International ESTA standards.
Complimentaries
All our aircraft charters come with free complimentary food, water & more for all the passengers.
Privacy
While you travel in luxury, you can enjoy the privacy with your family and friends.