Powerful, lightweight and showcasing the latest technology.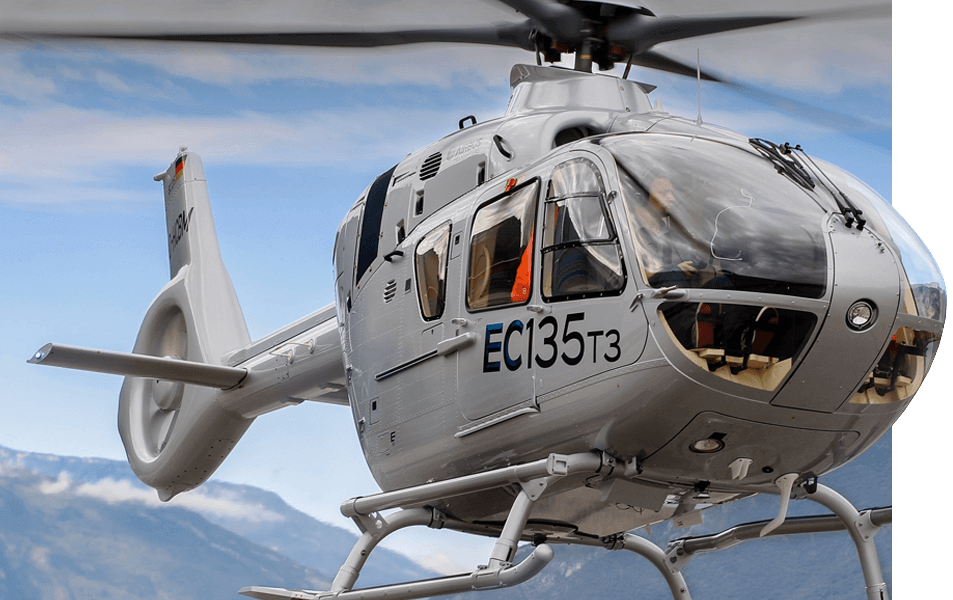 Description
The Airbus H135 is a powerful, lightweight, twin engine helicopter that showcases the latest technology. It has a full leather interior and can carry up to five passengers comfortably. It's versatility means its ideal for all kinds of journeys – short or long.
As one of the quietest helicopters in its class, the H135's noise footprint is markedly lower than older-generation helicopters in the same category. This matters most to customers who regularly fly over cities and in densely populated areas
This twin-engine helicopter can perform many different missions, landing almost anywhere, particularly high and hot, while carrying more payload over longer distances than other rotorcraft in its category.

Endurance
High endurance and long range capabilities allow the H135 to perform a full range of mission requirements. It carries more of a payload over a longer distance than any aircraft in its class.

Peaceful Trip
The H135 comes equipped with anti-resonance isolation and Fenestron tail rotors which allows everyone on board to enjoy the smoothest possible trip while minimising internal and external noise.
Connected
All of our helicopters are connected. You can work, play and enjoy while being in the helicopter.
Safety First
Nothing is more important than feeling safe. This is why all our aircraft meet stringent International ESTA standards.
Complimentaries
All our aircraft charters come with free complimentary food, water & more for all the passengers.
Privacy
While you travel in luxury, you can enjoy the privacy with your family and friends.